AKC/ASCA Ch. Shoreland's Scarlett Ribbon

"Starlet"

(CH Rising Star's Right Hand Man X CH Shorelands Once Upon A Time)

CERF NORMAL-As of May 2010 HSF4 Non Carrier
OFA-Hips - GOOD OFA #AS-23448G24F-NOPI
OFA - Elbows-Normal OFA #AS-EL2594F24-NOPI
FULL DENTATION-SCISSORS BITE
AKC DNA -ASCA DNA VP V475542

Co-Owned with Sue Mayborne

STAR GOES BEST OPPOSITE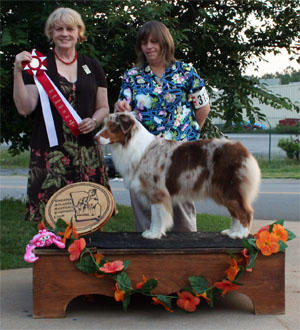 GAASC 7/12/2008
SHOW NEWS! On Saturday May 10th our Star showed at the Perry GA AKC Cluster and she garnered a nice Best of Opposite to the number 2 Aussie in the country! Way to go Miss Star, thank you Judge James White and as always to her handler Lara Spears!
SHOW NEWS!!!!!! On Friday April 25 at the Montgomery AL AKC show our Star went Best of Breed!!! Yahoo! Thank you Judge Harlow Jahelka for the very nice win and of course a big thanks to her handler Lara Spears!
March 30, 2008- Star showed in the Newnan GA AKC show , her first since December. She took at nice Best Opposite win. She showed beautifully! Thanks as always to her handler, Lara Spears!
STAR BOS GAASC 1st tim as a Special in ASCA-NAKED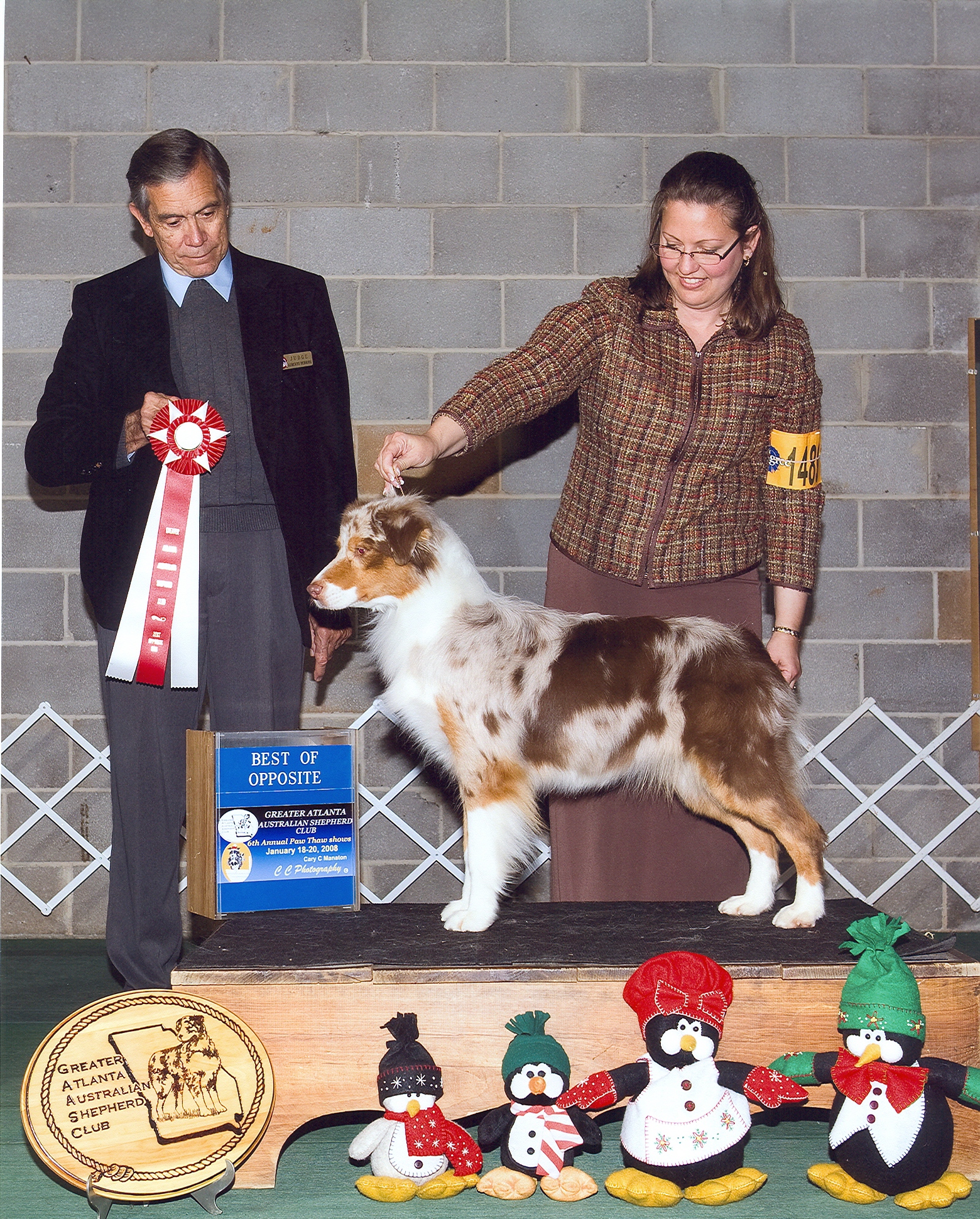 THANK YOU JUDGE ALBERTO BERRIOS
SHOW NEWS! Star finished her ASCA Championship in style at the January 20, 2008 GAASC Paw Thaw show under Judge Mrs. Berrios - she was WB/BOW&BOS for a 4 point major! Then at the PM show she showed as a Special and she went BOS under Judge Mr Alberto Berrios! Way to go Miss Star! Thanks Lara for your excellent handling of Star - your getting to be quite the team! Not mention she was totally NAKED!
STAR WB/BOW/BOS NEW ASCA CH-GAASC 1/20/08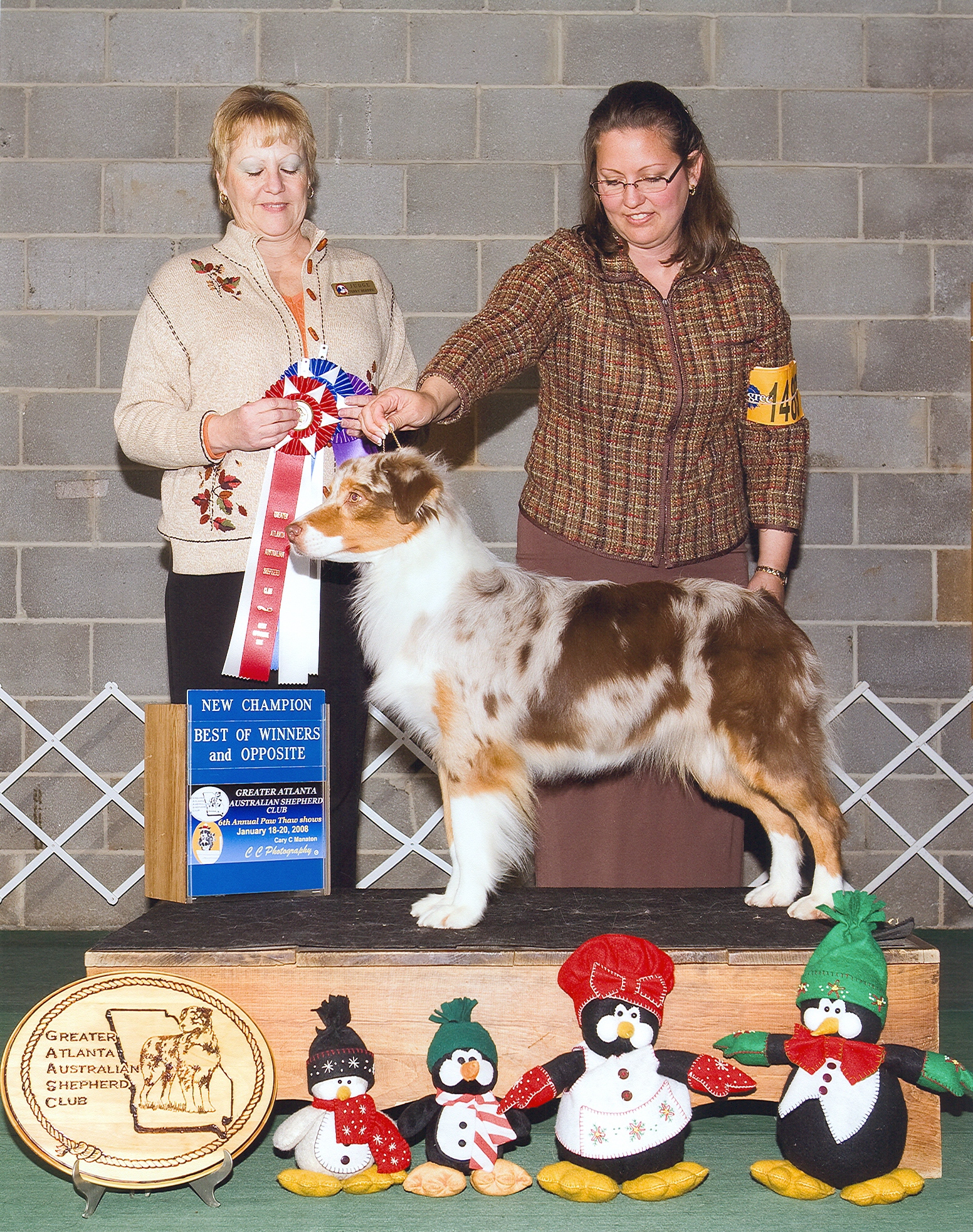 THANK YOU JUDGE MRS. ALBERTO BERRIOS
STAR BOB OCT 27,2007 KENNESAW GA AKC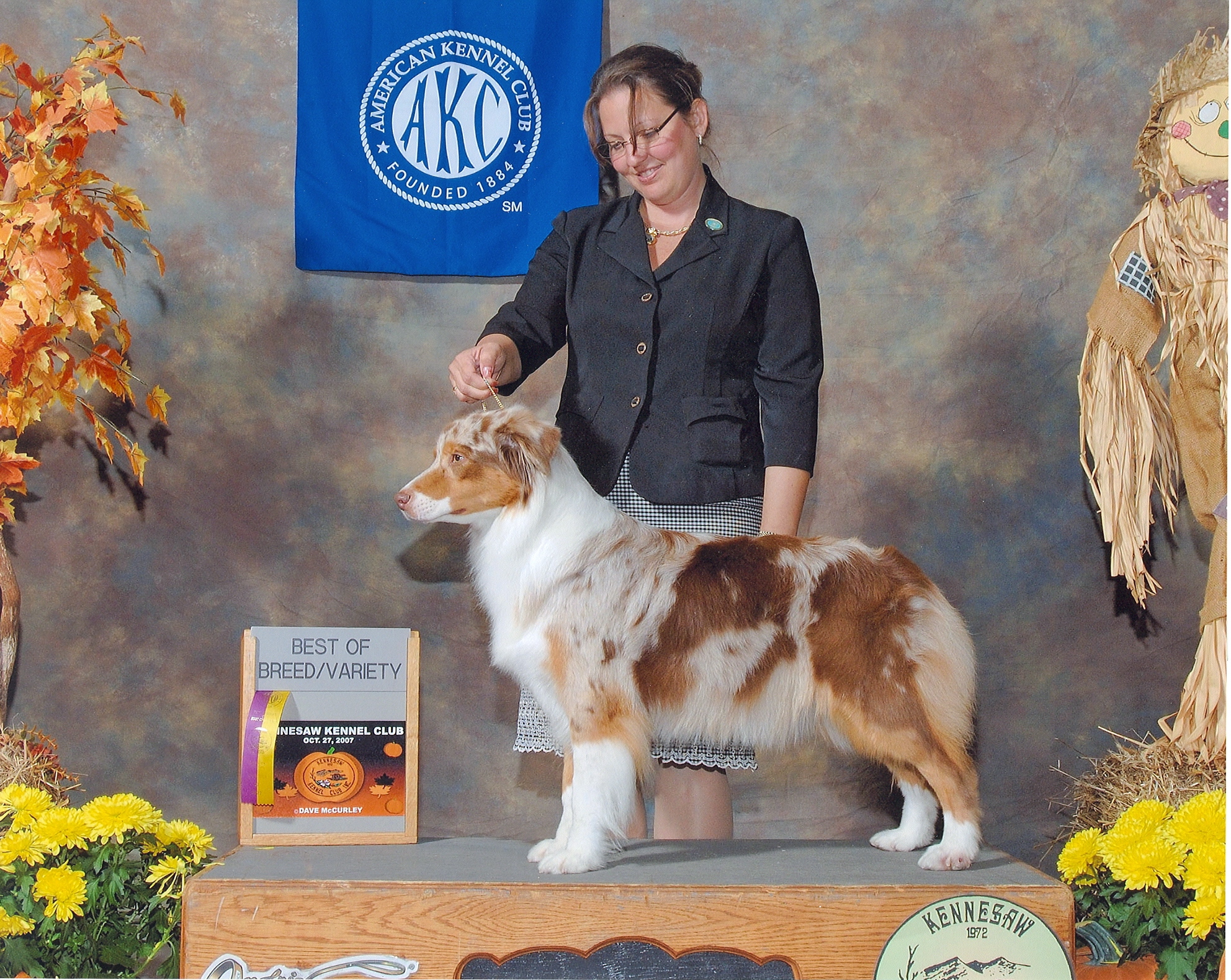 THANK YOU JUDGE MILLIE MEYERS!
10-27/2007 - At the Kennesaw GA AKC show today Star went Best of Breed over 4 male Specials! Two of which are ranked Number 2 and Number 7 Aussies in AKC! WAHOO! Miss Star showed beautifully! Thank you Judge Mrs. Mildred (Millie) Meyers for the lovely win and to Lara Spears her handler for doing such a fantastic job with our silly red head!

10-25/2007 - Our Star went BOS today behind BOB Ch Dreamstreets Season Ticket - thank you Judge JD Jones and to Lara Spears for her great handling of Miss Star!
STAR BEST OF BREED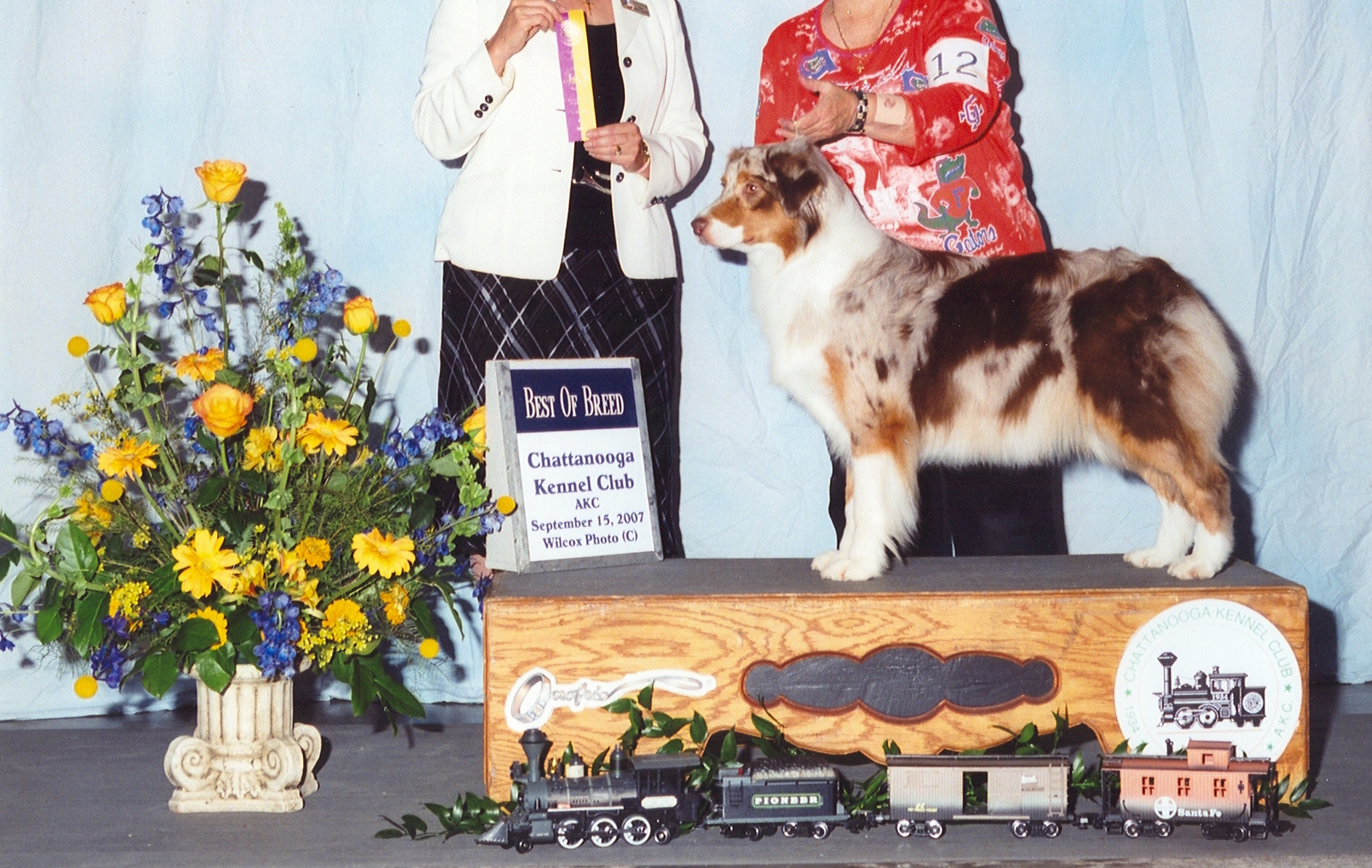 CHATTANOOGA AKC 9-15-2007
WAHOO! Star goes Best of Breed at the Sat. 9/15/2007 Chattanooga AKC show! I even got to take her in for Breed as Lara her handler was in a Group! This is Stars first Best of Breed since she finished her AKC Championship! Thanks Lara for the great job you did
with her in Groups!
SHOW NEWS! Atlanta AKC Cluster- Sat 8/25/07 - Star went Best Opposite to the 2nd ranked Aussie - BIS AKC CH Dreamstreet's Season Ticket (Sid) and also defeated the BTB Special who went BIS on Sunday 8/25/07~~ Thanks Lara Spears for you excellent job of showing our girl!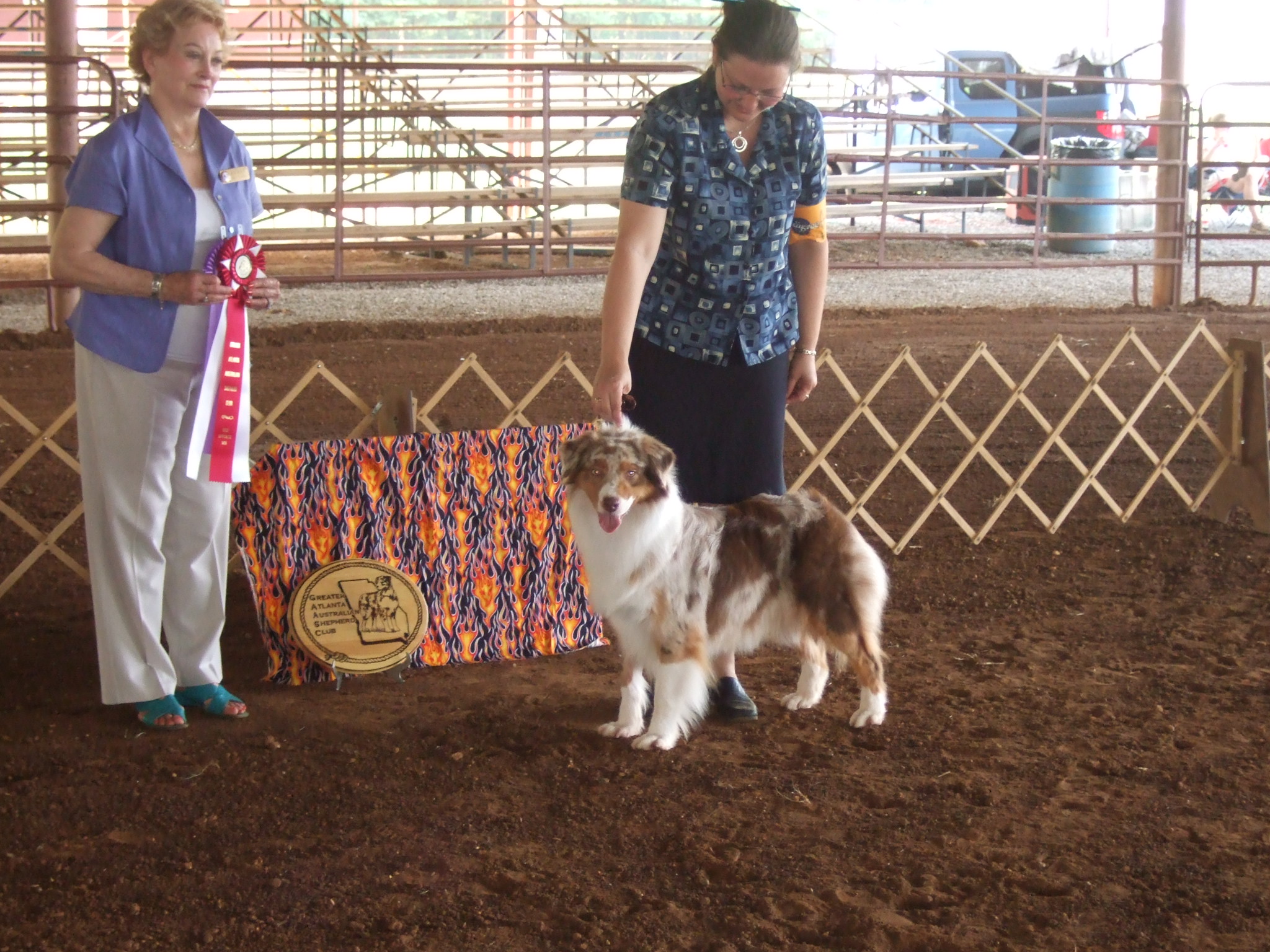 SHOW NEWS! Today 8/18/07 We attended the GAASC show and Star went WB and BOS! Thank you Judge Harper-Bellenger! So Star picked up another two points!
NEWS FLASH! This past weekend (7/14&15, 2007) we attended the GAASC show - Miss Star went WB for a 3 point major on Saturday and WB Sunday for two points! Wahoo Miss Star.
Star and Lara Spears WB GAASC 7/15/2007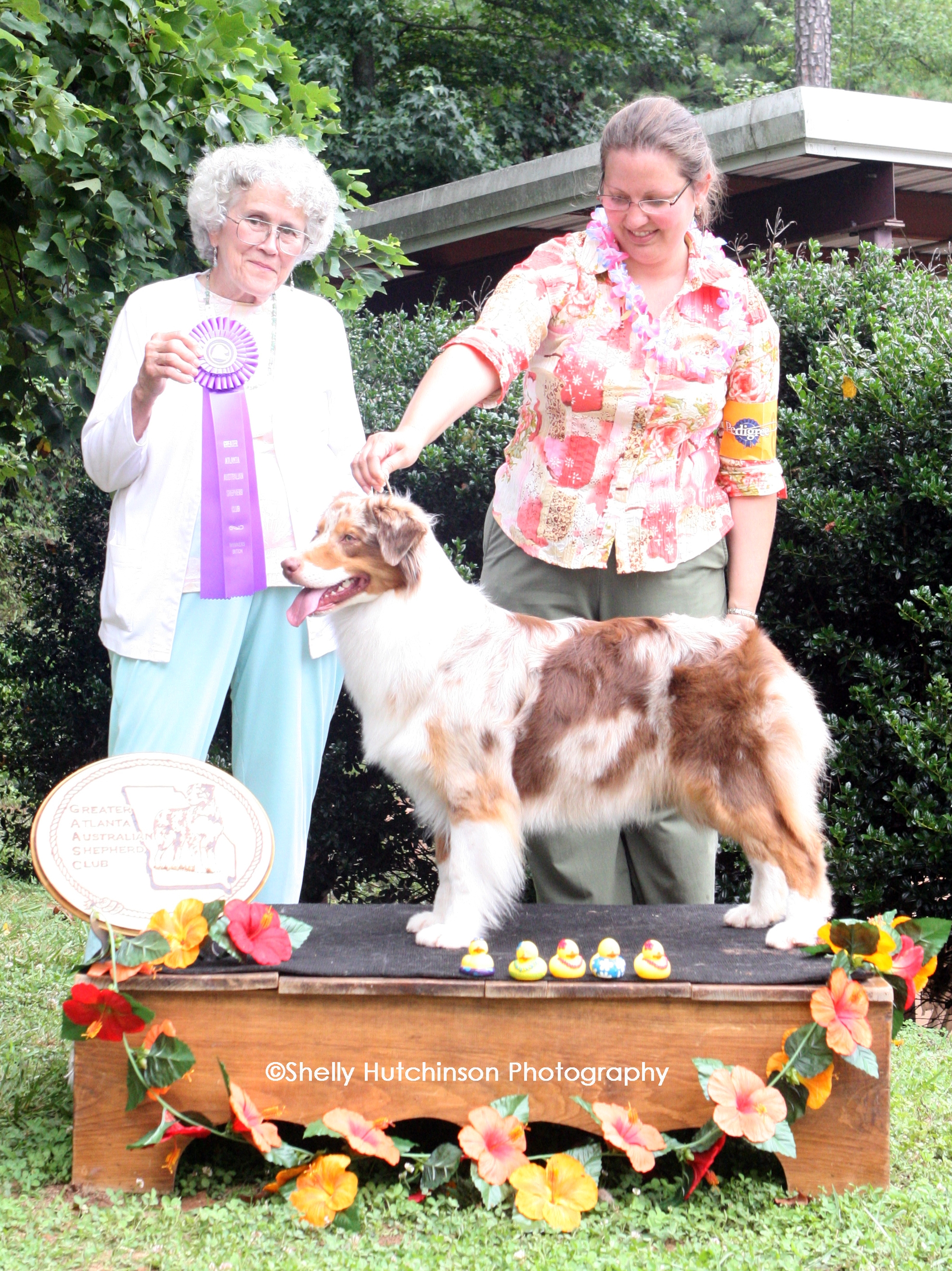 THANK YOU LARA! THANK YOU JUDGE MILLIE MEYERS
STAR WINNERS BITCH GAASC 7/14/2007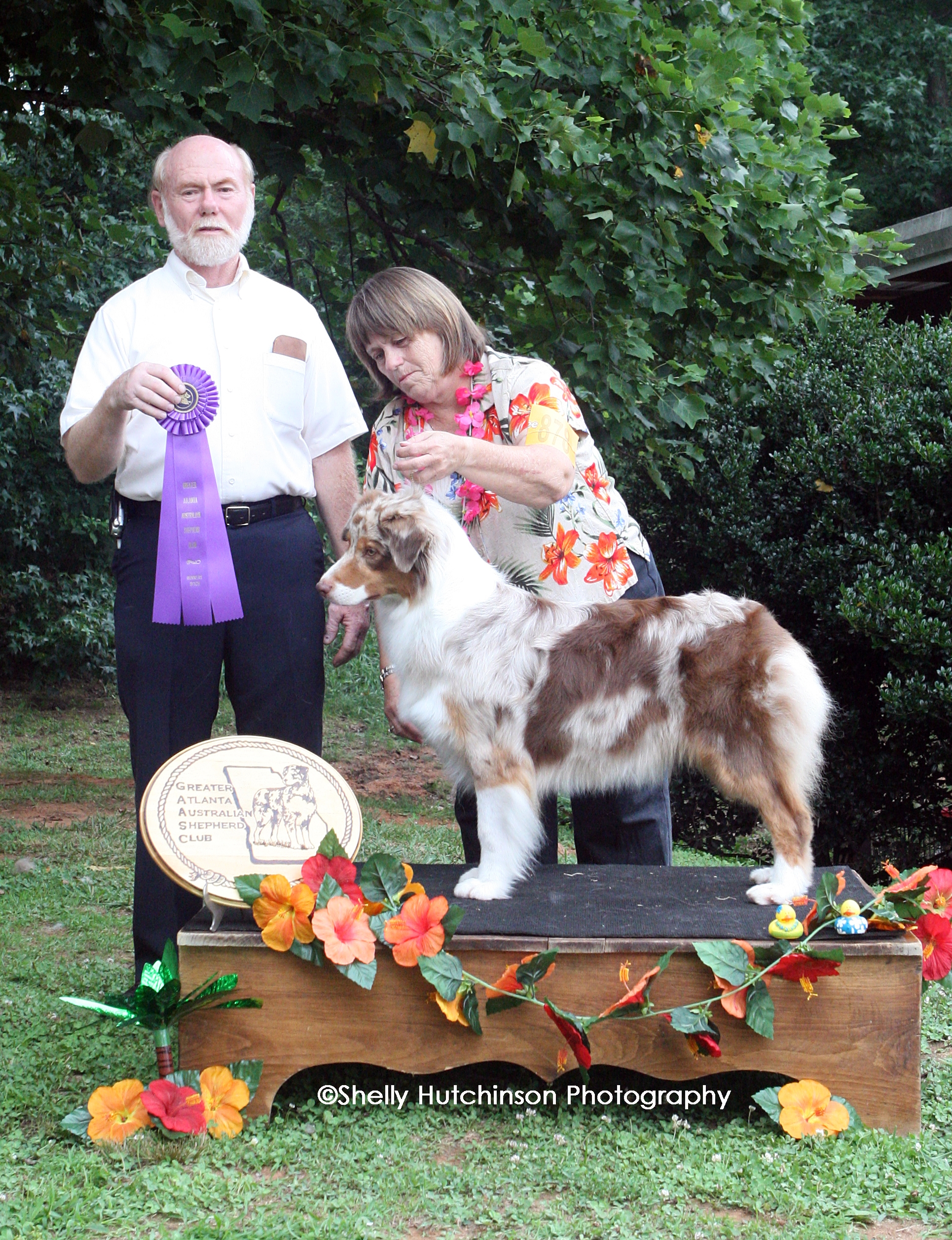 NEWS FLASH!!! Took Star to her first ASCA show (GAASC) with me on Sat 3/17/07! She went Winners Bitch and Best of Winners for a 5 point Major! Her first ASCA points! Thanks to Judge Marcie Proud!!!
Winners Bitch and Best of Winners GAASC 3-17-07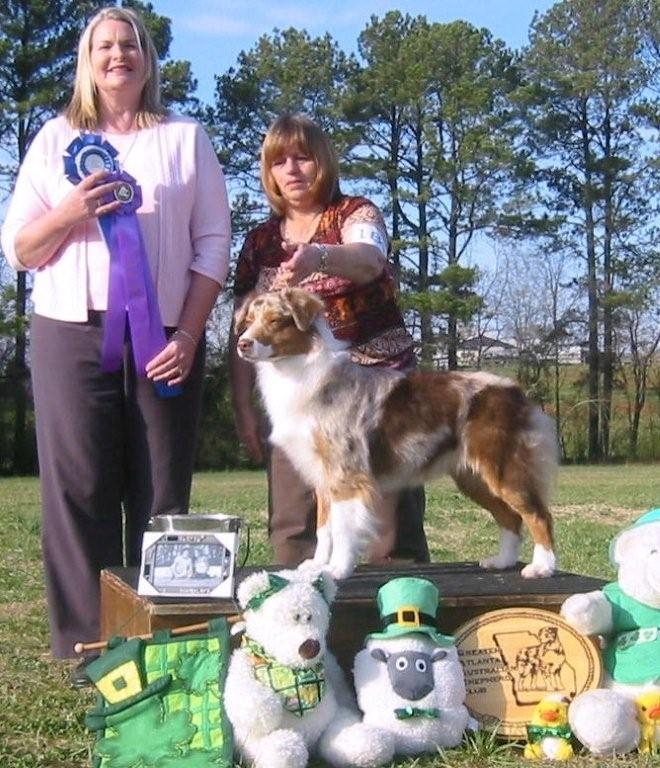 Photo Credit Impulse Aussies
See Below for UPDATED SHOW RESULTS!!!
NEW AKC CHAMPION -Thank you Judge Bivins !!!!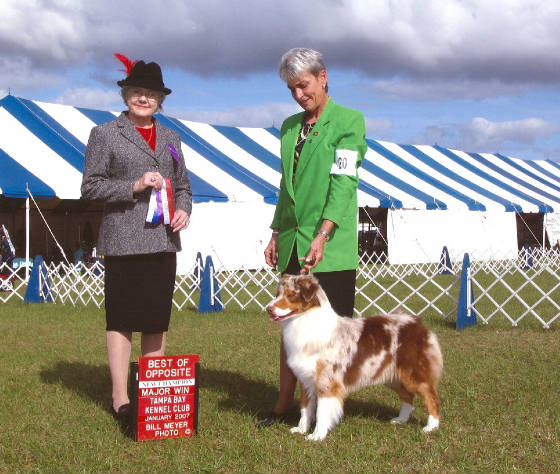 WINNERS BITCH/BEST OF WINNERS/BEST OF OPP
NEWS FLASH!!!!!!!!!!!!! STARLET FINISHED HER AKC CHAMPIONSHIP IN STYLE THIS PAST WEEKEND (JANUARY 13TH AND 14TH 2007 AT THE FLORIDA CLASSIC IN BROOKSVILLE FL) GOING WINNERS BITCH, BEST OF WINNERS AND BEST OPPOSITE SEX (4 POINT AND 5 POINT MAJORS) THANK YOU VERY MUCH JUDGE SHREVES AND JUDGE BIVENS. PICTURES WILL BE UP SOON!
January 13 2007 WB/BOW/BOS 4 Point Major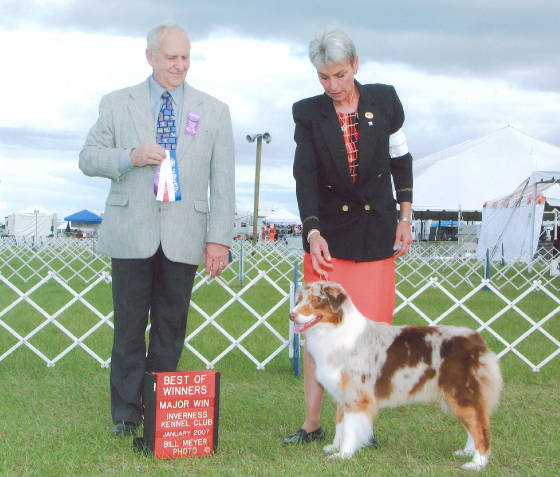 Thank you Judge Greeves!
Star WB Orlando AKC Dec 15, 2006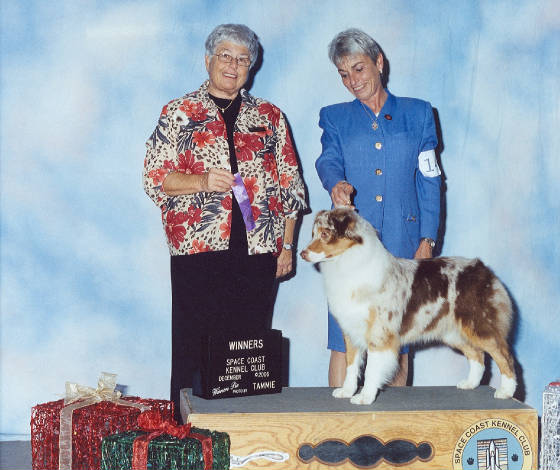 Thank you Judge Mrs Melanie Williams
Star WB Oralndo AKC Dec 16, 2006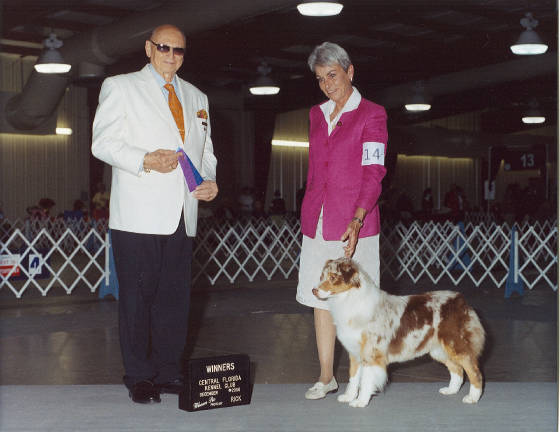 Thank You Judge David Ojalvo
Star Winners Bitch Orlando FL December 17, 2006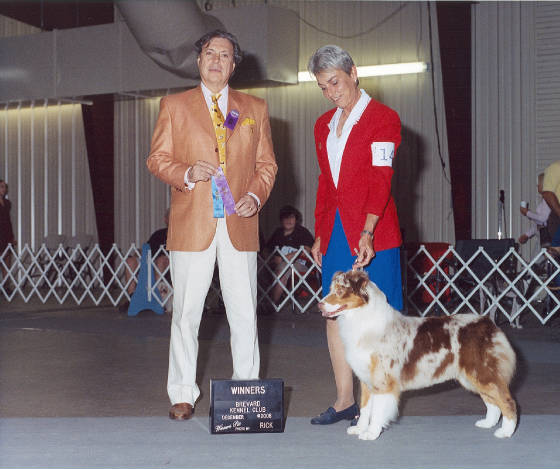 Thank You Judge Enrique Filippini
STAR WINNERS BITCH OCALA AKC NOV 2006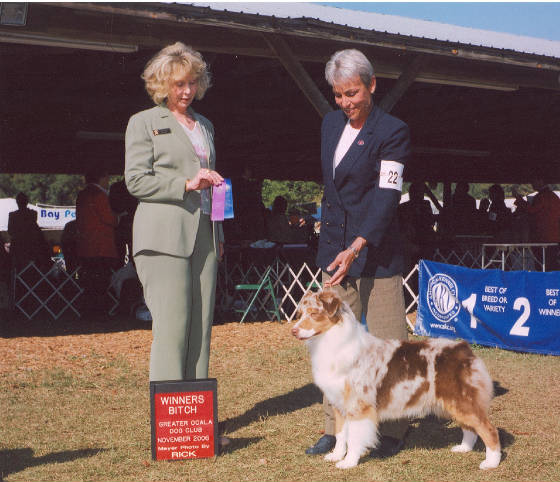 INTRODUCING OUT NEWEST FAMILY MEMBER!
WINNERS BITCH GRIFFIN GA AKC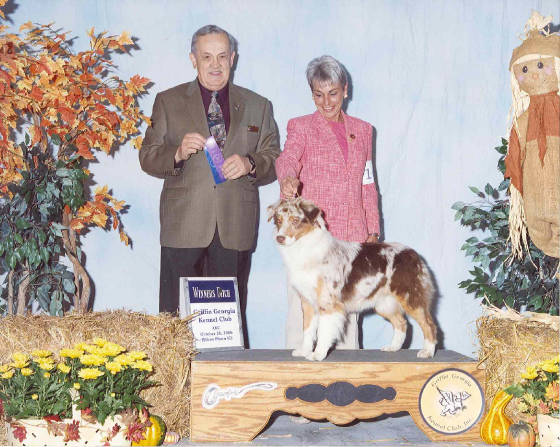 October 26,2006
Starlet USASA Nationals 2nd 9-12mo class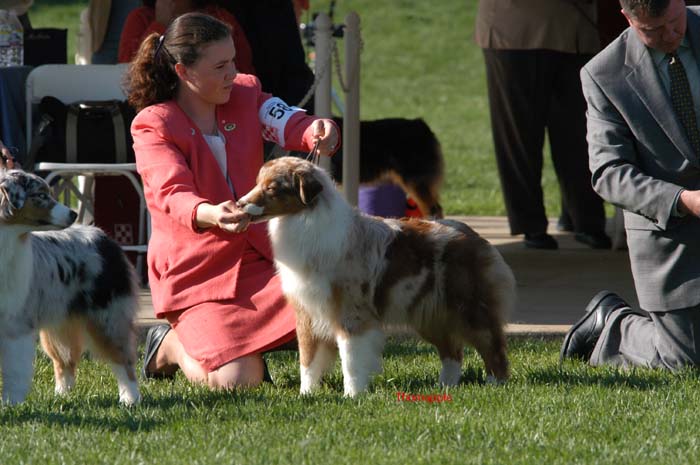 Star USASA Nationals April 2006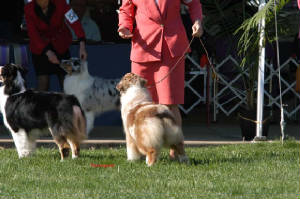 Thank you Sue Mayborne ( Star's co-owner) for allowing this pretty, sweet girl to become a member of our family! We are looking forward to a successful show career with Miss Starlet!