All the pups below have gone on to their new homes.
PUNKINS litter arrived on 1/26/2012- she delivered 7 healthy babies-6 girls and 1 boy! Please contact for availability. See Photo link below next paragraph.
LITTER #1- Punkin ( Hamiltons's Naughty By Nature of GatorHeaven AKC Mjr Ptd) has been bred to Dale ( GCH AKC/ASCA CH Legend's Starn Runnin Down A Dream Std S/D) for black tri ( possibly red tris) litter- litter due approx 1/29/2012. Pups should nice all around prospects. Reservations now being accepted!
Punkins kids 3 weeks old-first meal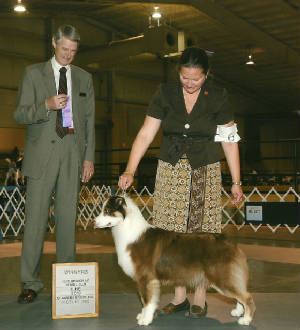 OFA Good/Elbows Normal
CERF Clear 2011
MDR1 Pending
HSF4 Penidng
Dale Movement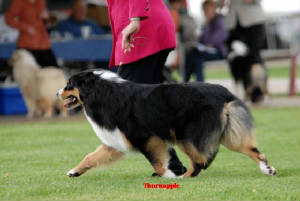 Dale Eukanuba Dec 2011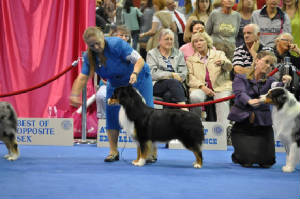 OFA Excellent/Elbows Normal
HSF4 Non Carrier
MDR1 N/N
CERF- Clear 2011
AKC and ASCA DNA
Stars pups were born 2/3/2012- she delivered 6 babies, 2 RMF, 1 BMF, 2 BMM and 1 BTF. Below is a link to their 1 week old photos, please contact for availability.
Litter #2 Star (AKC/ASC CH Shorleand's Scarlett Ribbon , Multiple BOB is bred to AKC GrCH Bronze Level /ASCA CH GatorHeavens Free Fallin', Multi BOB, Multi Group Placer and Final cut at Westminster 2011) Qualified for 2012 Eukanuba! VET SAW 5-6 pups on the Ultra sound today!! All 4 colors are possible. This should be an exciting litter, with correct structure , movement and temperaments. Litter due around 2/5/2012
Reservation list is now open! Please contact for further info!
STATS Stryder:
DOB - 1015/2007
By AKC/ASC CH Legends Starn Runnin' Down A Dream StdD, StdS
Out of PennyCaerau Miss Scarlet O'Hara - AKC ptd.
OFA HIPS EXCELLENT - AS-26241E24M-VPI
OFA ELBOWS NORMAL
CERF - Normal/Normal 2011
MDR1- 15439 Mutant/Normal
HSF4-Non-Carrier
ASCA DNA VP-AKC DNA #V579641/AKC DNA
Full Dentation- Scissors Bite
22" 58 lbs