AKC GrCH/ASCA Ch. Legends Starn Runnin Down A Dream-STDS,STDD, 40 AKC Grand Ch pts 2011 Eukanuba Qualifier
"Dale"
(CH Heartfire's Monster Bash x BISp ASCA CH Legend's Starn Wish Upon A Star Nitani)

CERF - Normal/Normal 10/2011
OFA EXCELLENT #AS-24723E25M-VPI
ELBOWS NORMAL
Full Dentation/Scissors Bite/22" 52 lbs
AKC DNA - V475577/ ASCA DNA-VP
Hereditary Cataract Mutation - CLEAR DOES NOT CARRY THE MUTATION 9/1/09. MDR1 Normal/Normal
SHOW NEWS-Dale finished his AKC Grand Championship this past weekend ( 4/2-4/3/2011) by going Best Op on Sat and Select on Sun! Thank you Lara for the awesome job you do showing not only Dale but all our dogs!
SHOW NEWS!! At the Atlanta AKC shows (2/4-2/6/11) Dale was Select Dog on Friday and Sat and went BOS on Sunday. He picked up 3 mor majors and all his champion defeata. he has 21 GrChampion points - 4 more singles to go! Thank you judges Lawrence Stanbridge and Raymond Filburn for the Selects and to Judge Richard Lewis for the BOS!
Dale Best of Op Atlanta Feb 6, 2011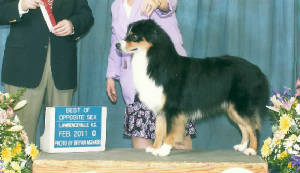 SHOW NEWS! At the Orlando AKC shows our Dale went Select for 2 more Grand Chanpion points. Thank you Judges David Kirkland and Raymond Filburn.
Dale Priceville AL AKC Nov 14, 2010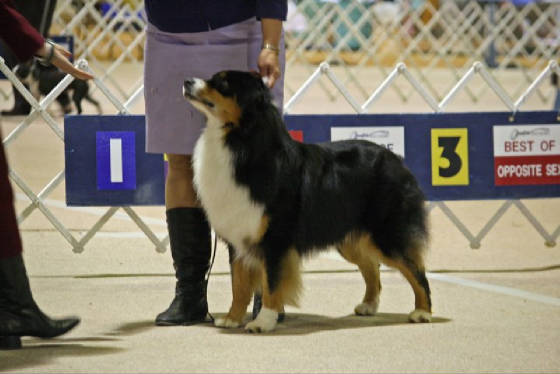 Back In The Ring After Almost 2 Years!
SHOW NEWS!!! Our Dale headed back to the show ring after almost two years off and he did not miss a beat! He went BOS on Thursday 11/11/2010 under Judge Paul Willhauck and also went BOS on Sunday 11/14/2010 under Judge Peggy Beisel-McIlwaine. Dale picked up 5 Grand Champion points, including a major! Thanks Lara for the beautiful job you do showing our dogs!
TRIAL/SHOW NEWS! - GAASC Spring Fling -Our Dale completed his last started duck leg with a score of 82. THank y ou Judge Rachel Vest and to his trial handler Amy Burnette. Way to go! At the Sunday Am show under Judge Rick Gann - Dale picked up a BOS in Breed competition! Thanks you Judge Gann and to Tanner Norris for showing him so well!
TRIAL NEWS! On Sunday 3/1/09 Dale attended the FCASC trial in Ballground, Ga - with his handler Amy Burnett - he got his second leg on started sheep so now has his Started Sheep Title and also garnered a Started Duck leg in the PM show! Thank you very much for handling our boy and to the Judges Mr Padgett and Mr Shope! We will be trialling again on March 14th at the GAASC Spring Fling! Hoping to get our last started duck leg!
Show News! On Saturday Feb 21 at the Tallahasse AKC show Dale went BOS under Judge Linda Moore. Thank you Judge Moore and of course Lara Spears his handler. He showed beautifully!
On February 7, 2009 our Dale finished his ASCA CH going WD/BOW/BOB over Specials for a 5 point major! He finished his ASCA CH with all (4) majors! So thrilled to get to finish him myself! Thank you Judge Jacobs!
DALE WD/BOW/BOB Feb 7,2009 FASA New Champion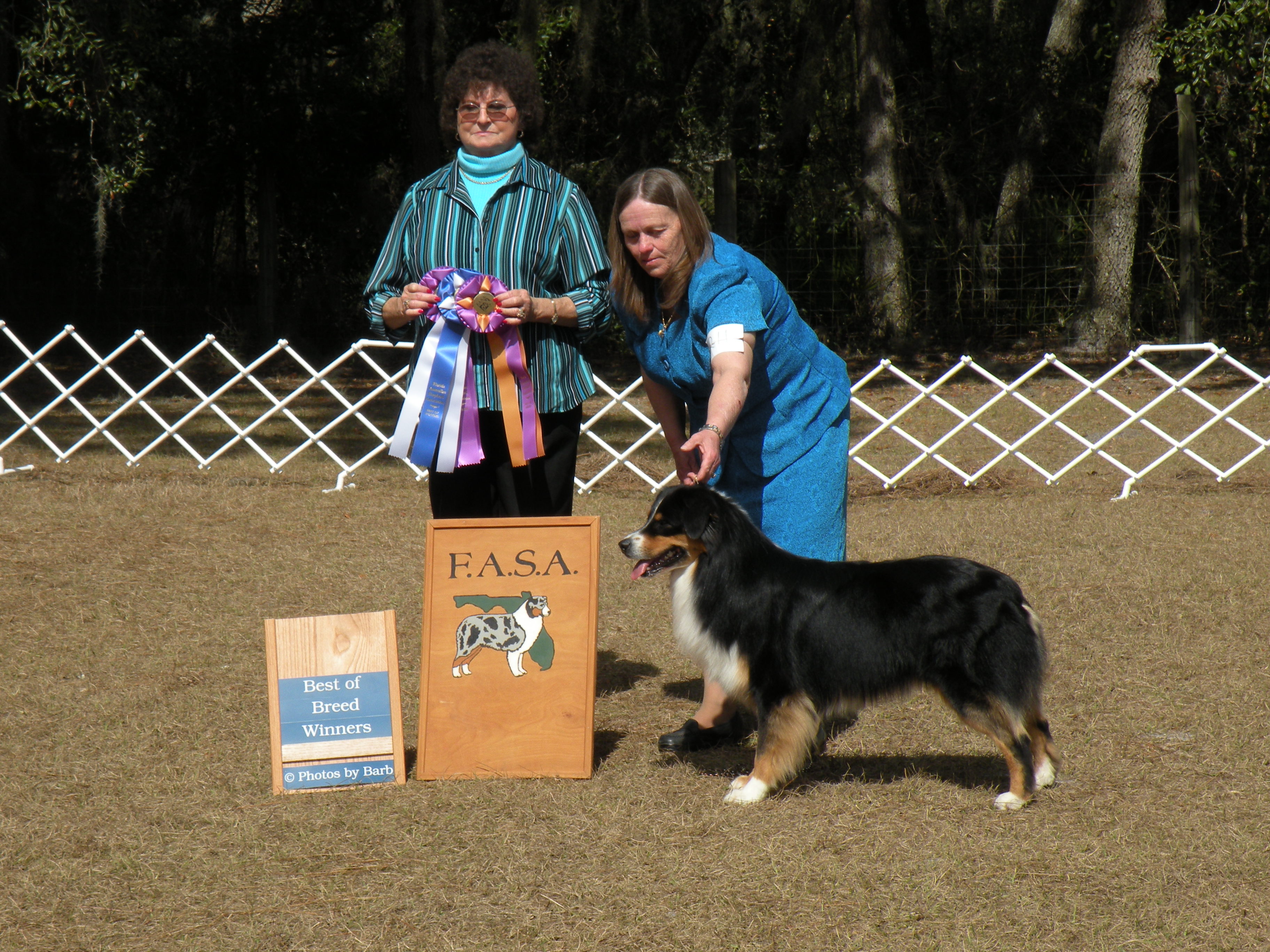 Thank You Judge Jacobs
SHOW NEWS! At the GAASC Show on Sat December 6th Dale went WD/BOW for his 3rd ASCA Major - he now has 12 ASCA points. Thank you AKC Judge Millie Meyers and as alway to Dale being shown expertly by his handler Lara Spears!
MONTGOMERY AL AKC GROUP RING
NOVEMBER 21, 2008
SHOW NEWS!! OUR DALE WENT BOB AT THE FRIDAY AND SAT (11/21 AND 11/22) MONTGOMERY AKC SHOWS! THANK YOU TO JUDGE GRASSO AND JUDGE CANALIZO! BIG BIG THANKS TO HIS HANDLER LARA SPEARS!
SHOW NEWS!!! On Sat 10/4/08 Dale went Winners Dog for a 4 point major under Breeder Judge Shelley Hollen at the GAASC AM Show! Thank you very much and also a big thanks to his handler Lara Spears! In the PM show Dale went RWD under Breeder Judge Cheryl Padgett.
DALE WIINERS DOG 10/4/08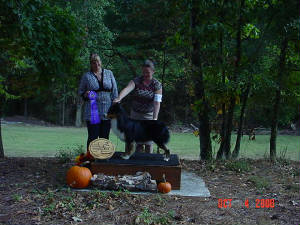 SHOW NEWS! On Saturday April 26th Dale showed in Breed and garnered a Best Opposite Sex - Thank you Judge Mrs Minn-Liisa Koltes!
DALE WINNERS DOG GGASC 1/20/2008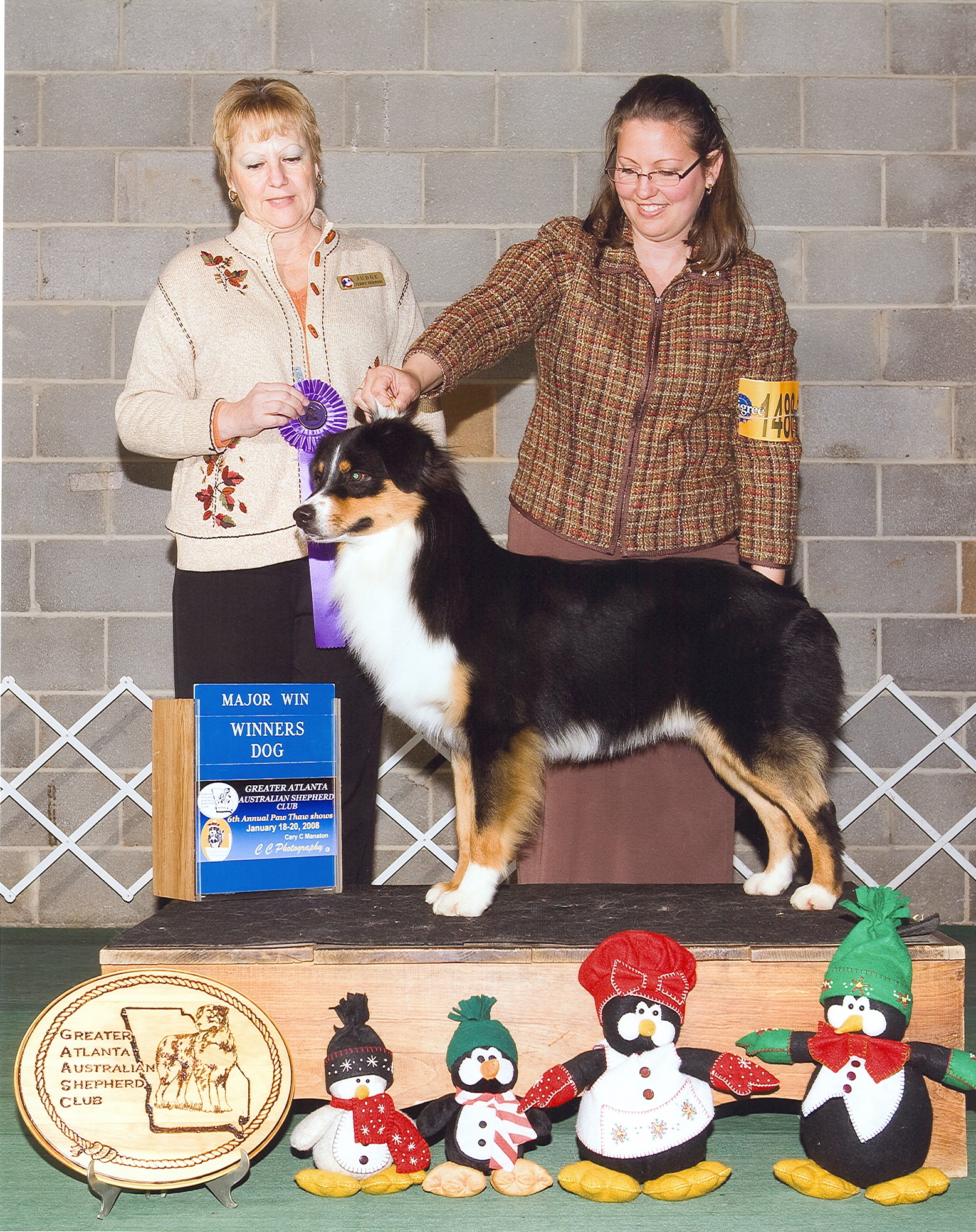 THANK YOU JUDGE MRS. ALBERTO BERRIOS
SHOW NEWS - Dale went Winners Dog for a 4 point major at the Greater Atlanta ASC Paw Thaw Show on January 20th, 2008 for his first ASCA points! Way to go Dale Man. Picture will be posted soon!
Best Opposite Sex Albany Ga AKC Oct 2007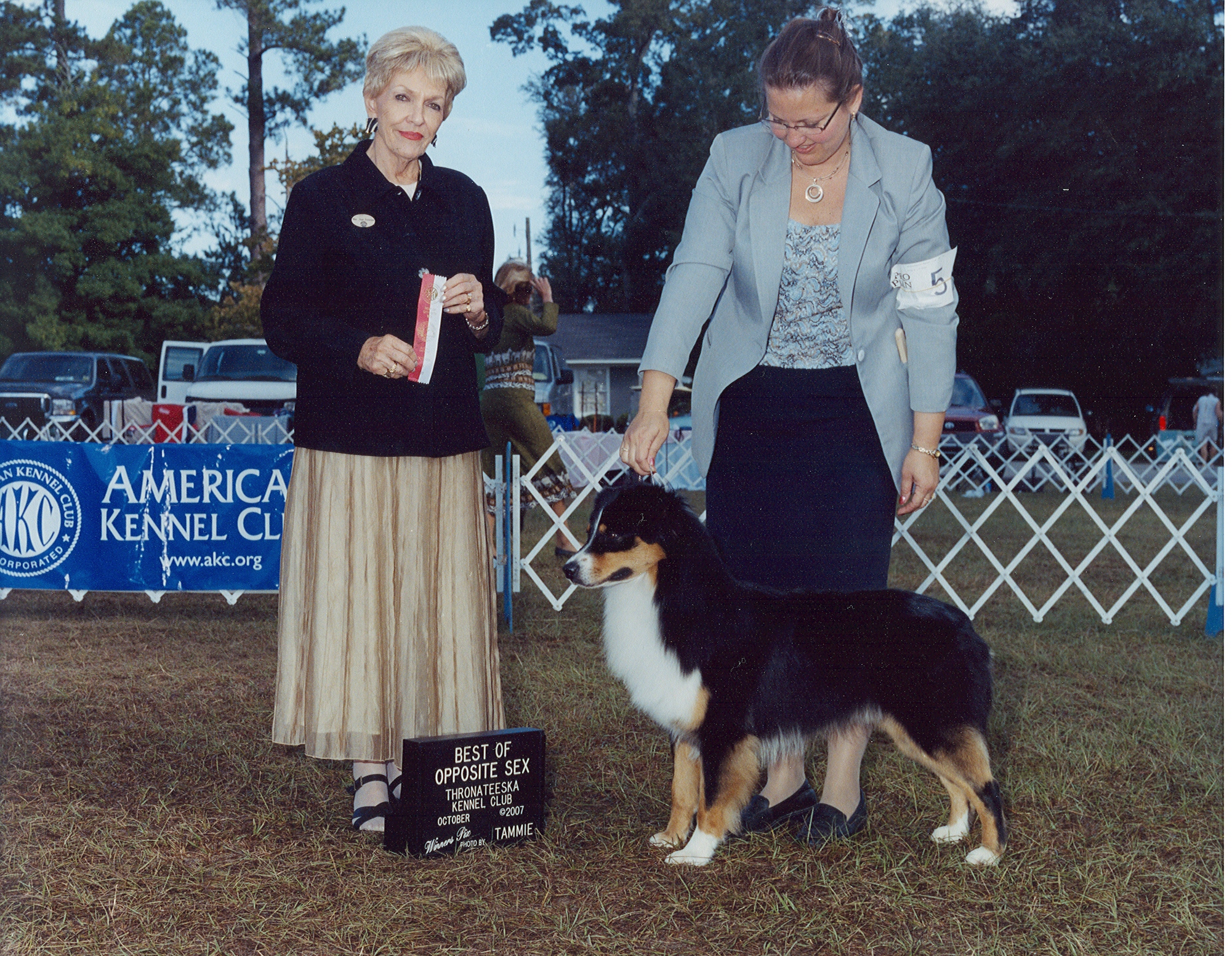 THANK YOU JUDGE JEAN FOURNIER
WELL Dale went to the Albany (Ga) AKC show this weekend for his first weekend out as a official Special! Yesterday he showed very well but did not do anything, but today he went Best of Opposite to the Panda the BTB that David Stout shows, BIS Ch Rainydays Pandemonium) that went BOB/Group 1 today. He also beat out a dog that went BOB/Group 3 yesterday!! The judge Mrs Fournier said he is a lovely dog - not overdone nor too big (too many she said are too big), but still lots of leg under him, great movement and a beautiful head! She asked how old he was and Lara said under two (well 6 mos under two he will be 18mos on the 28th) and she said she looks forward to seeing when he is matured out! WAHOOOOOOOOOOOO Dale Man! Thanks as always Lara for showing him so well! You two are becoming quite the team! Picture to follow shortly!
DALE WD/BOS TO FIINISH HIS AKC CHAMPIONSHIP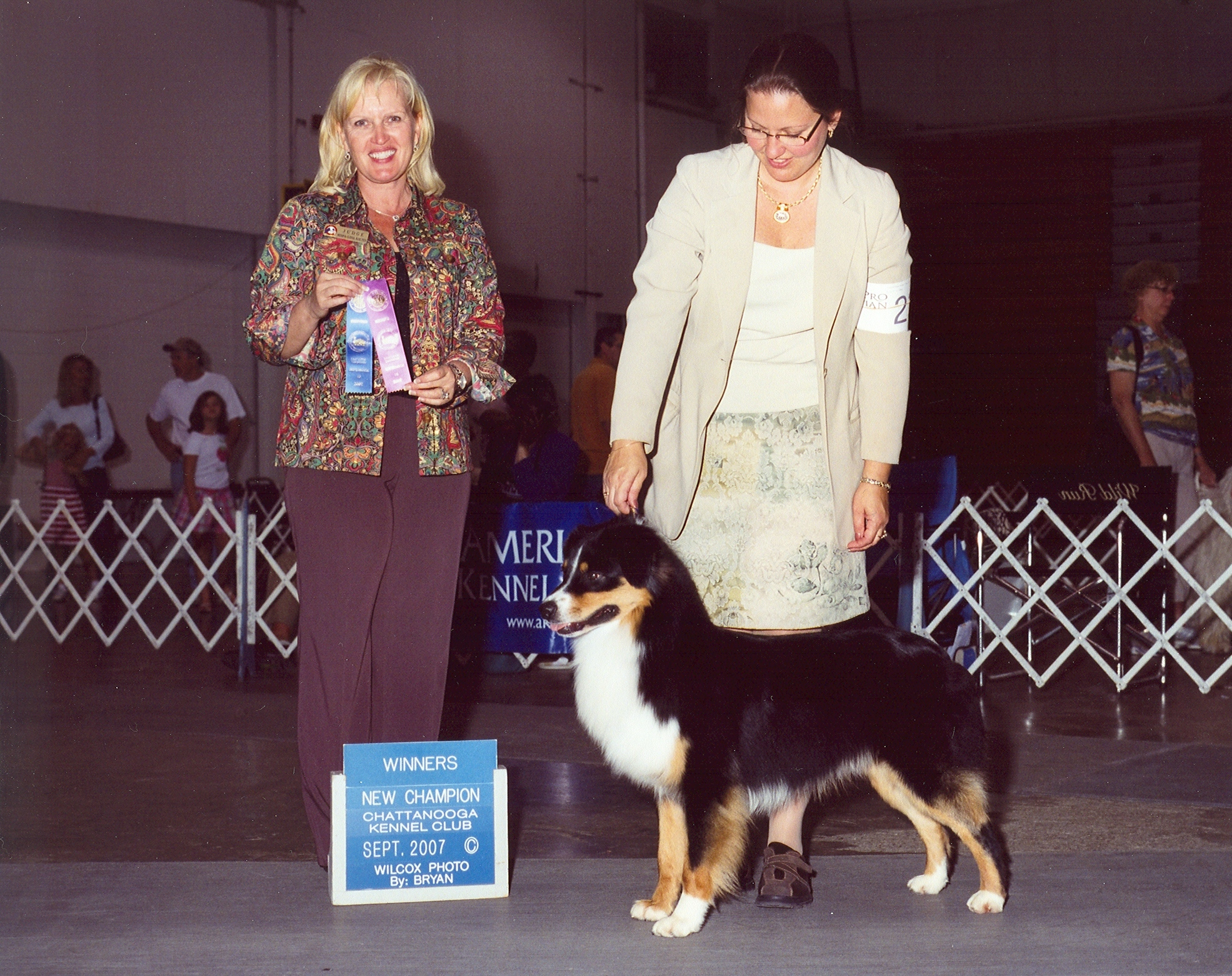 CHATTANOOGA TN 9-16-2007
DALE WD/BOW/BOS 3 POINT MAJOR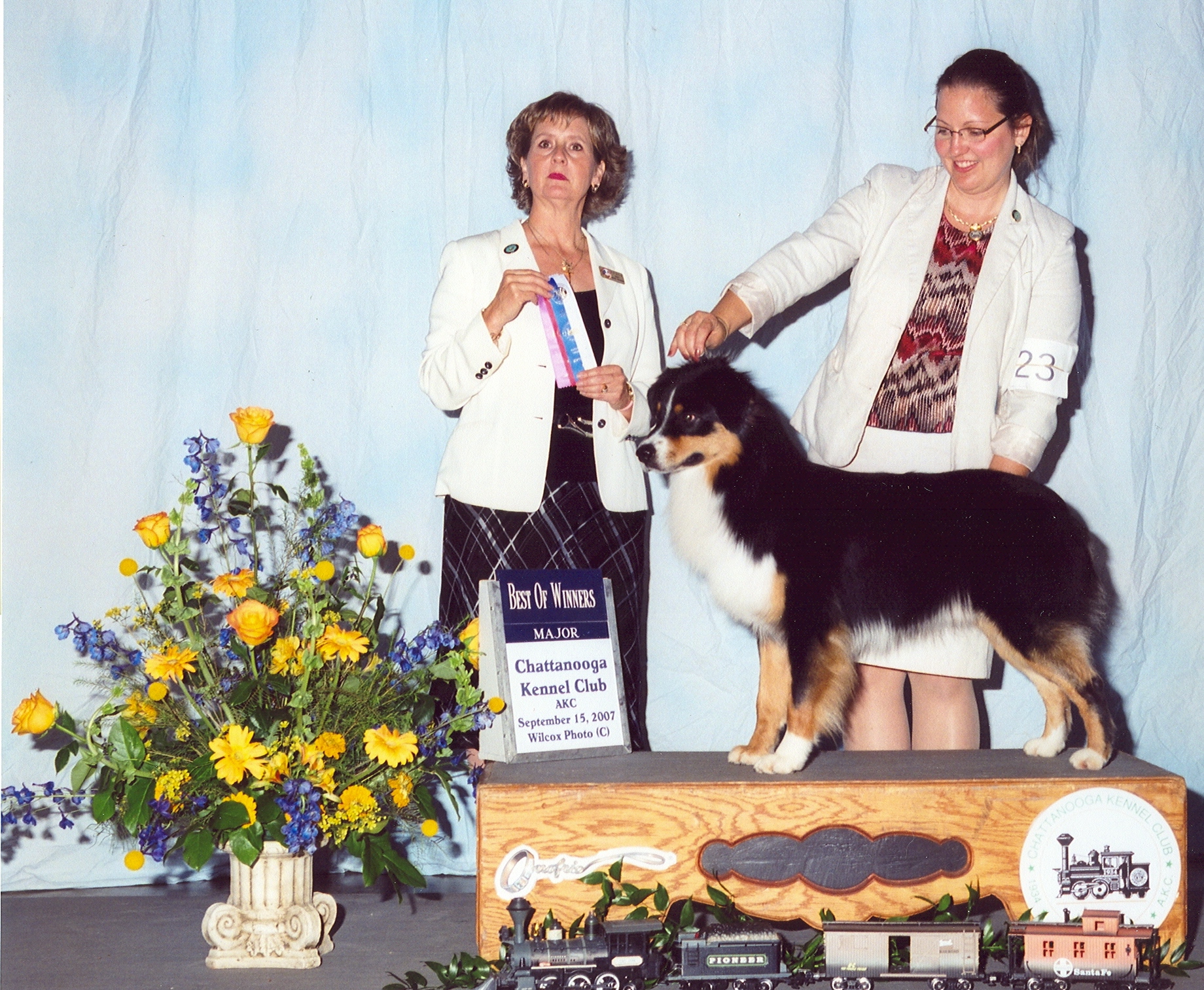 CHATTANOOGA TN 9-15-2007
WAHOOOOOOOOOO!! Newest Show News! Dale went WD/BOW/BOS for a 3 point major Sat 9/15/07 at The Chattanooga TN AKC shows - then on Sunday 9/16/07 Dale went WB/BOS to finish his AKC Championship with 3 majors! WAY TO GO DALE MAN! Thanks to Judges Ms Pegggy Besisel-McIIwaine and Mrs. Minna Liisa Koltes! Also a great big thank you to his handler Lara Spears for presenting him so well!!
SHOW NEWS!!! Dale goes WINNERS Dog at the Oakridge TN show on Sat May 26th under Judge Linda C Moore and he went RWD on Sun May 26th under Judge Patricia Gellerman - thank you both very much! A BIG thanks to Lara Spears on the great job of handling Dale for us!!!
WINNERS DOG OAKRIDGE TN 5/26/2007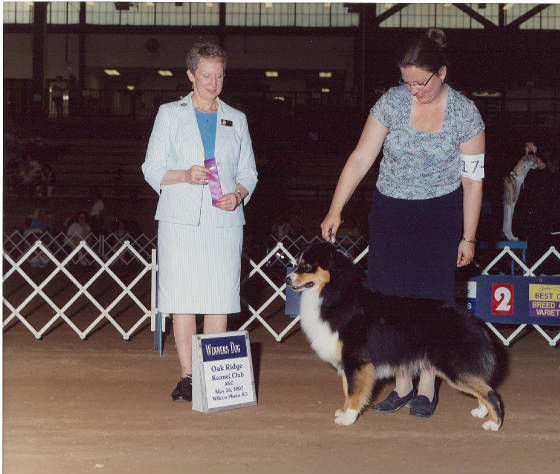 Thank you Judge Linda Moore
USASA NATIONALS 2007 4th PLACE IN 9-12 MO. CLASS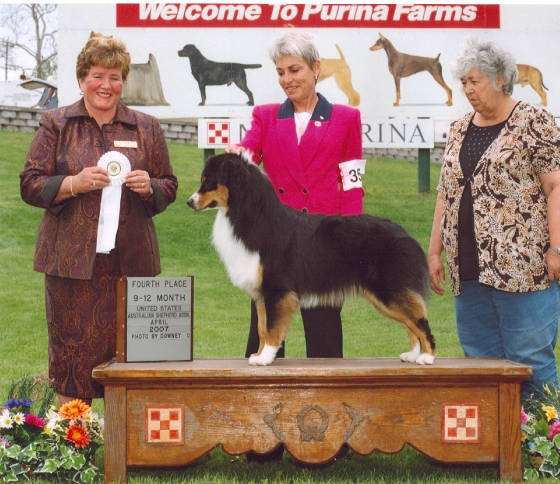 THANK YOU JUDGE SHEILA POLK
USASA NATIONAL NEWS!! Dale takes a 4th in a tough 9-12 month class with an entry of 17! Way to go Dale Man! Thank you Judge Sheila Polk and of course Pat for showing him so beautifully!
NEW FLASH!! Dale goes WD for his second major (4 points) at the Peach Blossom AKC Cluster on Thurs. April 12 - thank you Judge James R White for this lovely win! He also went Best of Breed Puppy and took a Herding Group 3rd out of a group of 9 lovely pups! Pictures will be up shortly!
WINNERS DOG4 POINT MAJOR Perry GA AKC 4/07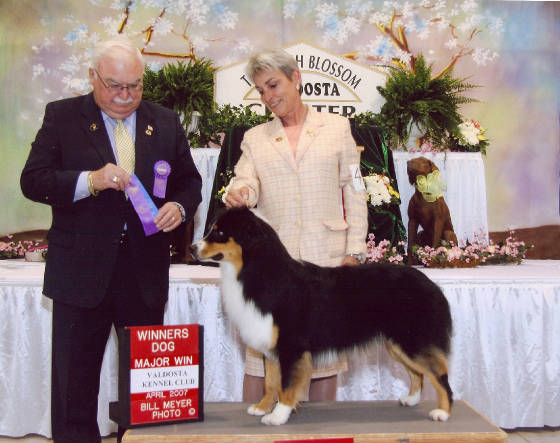 Thank You Judge White!!!
Herding Puppy Group 3 Perry GA AKC April 2007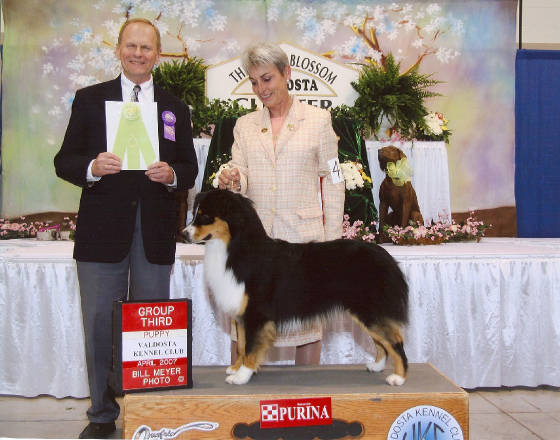 This young man is a joy to show - he has effortless movement, ground covering stride, very clean coming and going!
WINNERDS DOG TALLAHASSEE FL Feb 24, 2007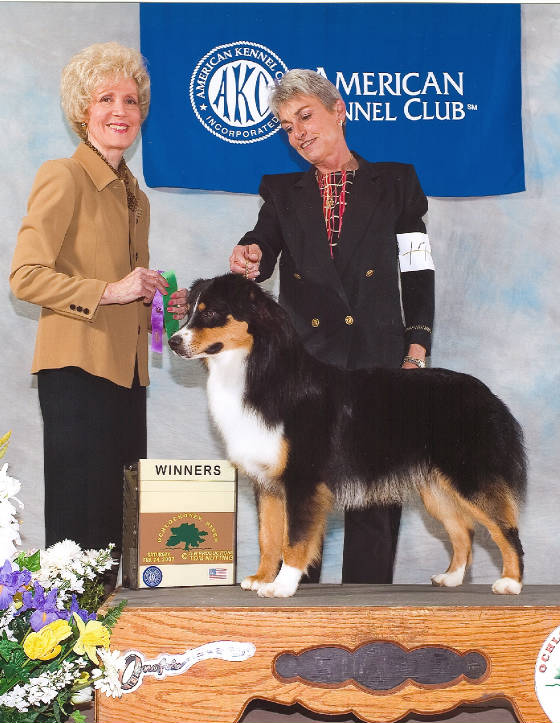 THANK YOU JUDGE JUNE PENTA
WINNERS DOG 3 POINT MAJOR OCALA AKC 11/06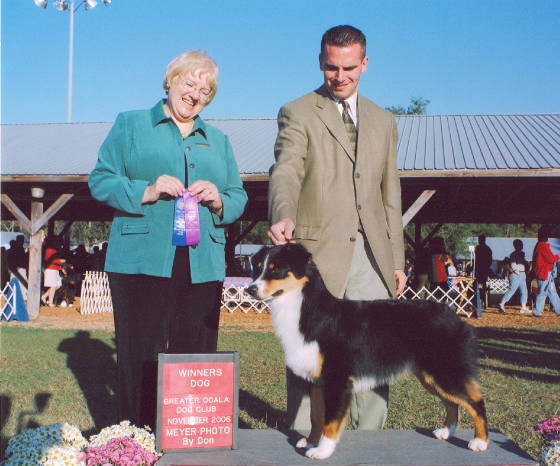 DALE WAS ALSO BOBP AND HERDING PUPPY GROUP 3RD
SHOW NEWS!!!!!!!!!!!!!!!!!!!!!!!!!

Dale was Reserve Winners Dog at the Suwannee Valley AKC show in Ocala on Friday 11/17/06 - thank you Judge Zell VonPohlman

Dale went Winners Dog, BOBp and Herding Puppy Group 3rd at the Ocala FL AKC show Sat 11/18/06-Thank you Judge Sharon Ann Redmer for the win and thanks to Judge Edy Dykstra-Blum for the Group 3 out of a very nice Herding Puppy Group! Of course to Pat Stout for showing him so well both days! Pictures will be up as soon as we get them!
On Saturday February 24th at the Tallahassee AKC show Dale was WINNERS Dog for 2 points, He was also BOBP and earned a Group 3 in the Herding Puppy Group! Way to go Dale man! Thank you June Penta for the nice win and compliments!

On Sunday February 25th at the Tallahasse AKC show Dale went RWD under Judge Brian Williams,
Dale went RWD to a 3 point major at the Newnan KC show on Sunday April 1, 2007 - he showed his little heart out! Thanks to Lara Spears for showing him for us - you did an excellent job!
CHECK OUT the 2005/2006 ASCA Nationals Page to get updates on how Mr Dale has done so far!
Dale - 10 Weeks Old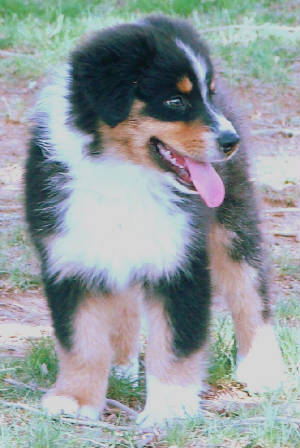 Black Tri Male Born 4/28/06. Dale will be coming to Gator Heaven after he is shown at Nationals in September. He will be staying with his first Mom, Anne Shope till Nationals. Anne is teaching him all the things good puppies need to learn. We are thrilled to be getting this lovely boy from Legends and want to thank them for allowing him to become part of our family.