Show Results

Twister and Scarlet

AKC CH After All's High Velocity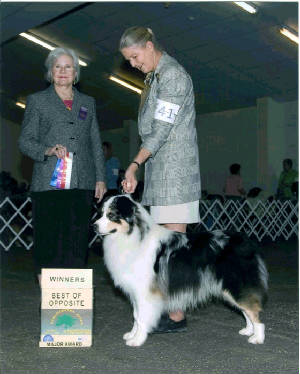 Thank You Judge Irene Biven
TWISTER- CH AFTER ALL'S HIGH VELOCITY (AKC-15 points, both majors)
Twister earns a four point AKC major at the Perry, GA show!
WD and BOW at Zoflo Springs AKC show 4/17 (2 pts)
RWD - Greenville SC AKC 7/23
WD - Greenville SC AKC 7/24 (2 pts)
RWD - Atlanta, Ga. AKC 9/18
WD - Atlanta, Ga. AKC 9/19 (1 pt)
WD and BOS at the Tallahasse AKC show in Feb
for a 4 pt Major - thank you Judge Irene Bivens
Twister goes Winners Dog/Best of Winners At the Oakridge TN AKC Show on May 29,2005 under Judge Irene Bivens
Twister was RWD at the Spetember 1st Perry GA AKC show!
RWD Atlanta GA Sept 05, RWD Oct 05 Ocala, FL
WD Albany GA Oct 23, 2005 - Twister is now a AKC Champion !!
Scarlet BOBp- Ocala 2002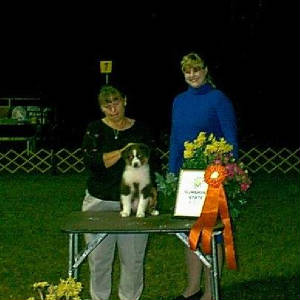 Her First SHOW! Thank You ASCA Breeder Judge, Shelly Hollen
PennYCaerau's Miss Scarlet O'Hara (aka Scarlet) AKC Pointed (9 points to date )
Valdosta GA AKC Sanctioned Match Feb 2005 BOB and Group 3
Clemson SC AKC Sanctioned Match BOB and Group 1
WB and BOW at both Lake City AKC shows March 2005
WB AND BOS Both days at the Oakridge TN AKC Shows May 28th and 29th - Thank you Judges Roppolo and Mrs. I Bivens!
Scarlet was RWB on 2/25/06 at the Tallahasse FL AKC show and on Sunday 2/26/2006 She was WB for 2 points! Thanks judges Battaglia and P. Hess. This was her first AKC shows since last May when she took time off to have a litter of beautiful pups! Pictures will soon be up!
Scarlet Tallahasse AKC February 2006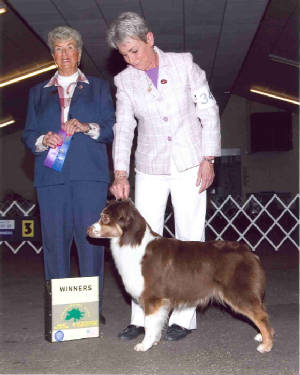 Thank You Judge Patricia Hess
May 21, 2006 - Scarelt was RWB at the Beaufort SC AKC show